Sandman Hotel
— Revelstoke, Canada
No reviews have been submitted
Tell us about Sandman Hotel
USD 109
Nightly rates from
Standard
Sandman Hotel, Revelstoke
Suite with 1 bath | Incl: 2 x | Max: 4 x
Amenities — Standard
Extras
Air Conditioning
Alarm Clock
Desk
Iron & Ironing Board
Kitchen
Coffee & Tea
Coffee Maker
Amenities — Sandman Hotel, Revelstoke
Stay Connected
Free WiFi
Business Centre
Food & Drink
Bar
Restaurant
Room Service
Health & Wellness
Fitness Facility
2 Indoor Pools
Pricing
Please select check-in and check-out dates to view pricing information.
About Sandman Hotel
A majestic outdoor playground surrounded by the Monashee and Selkirk mountain ranges, Revelstoke is one of BC's most popular vacation destinations. Hailed as "the original mountain town", visitors come from all around the country to enjoy its endless options for skiing, heli-skiing, hiking, camping, golfing and more. Centrally located with easy access to Highway 1, Sandman Hotel Revelstoke features convenient amenities like cozy beds, indoor pools, whirlpools and a Denny's 24-Hour Restaurant with room service, as well as Bar One. Also catering to the business traveler, modern essentials like free WiFi and meeting and banquet facilities provide just the right amount of support for short stop over stays. No matter if you're going for a long relaxing holiday or a quick business trip, Sandman Hotel Revelstoke has all you need. The Sandman Hotel Revelstoke features two buildings - the Selkirk and the Monashee, named after local mountain ranges. Each features its own pool and hot tub. Standard Rooms are located in the Selkirk Building while Deluxe Rooms are located in the Monashee. **Please note that the pool and hot tubs will be closed for the Winter 2022-23 season.**
More Less
Additional Options
at Sandman Hotel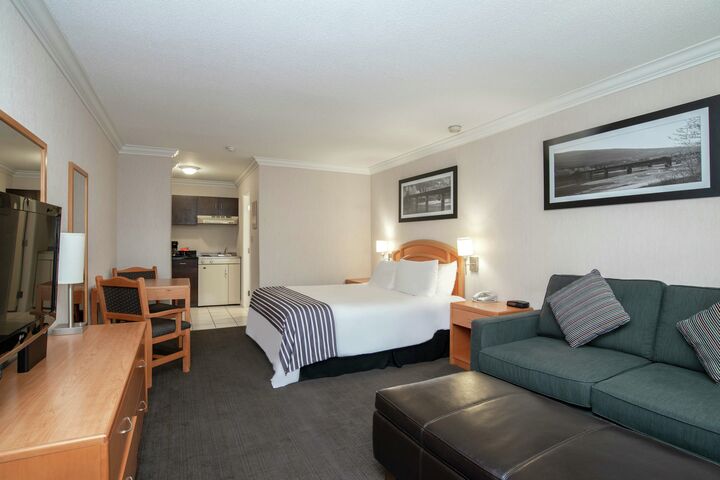 Incl: 2 x | Max: 4 x
Stay Connected: Free WiFi, Telephone
Entertainment: Cable TV, Flat Screen TV
Extras: Air Conditioning, Alarm Clock, Desk, Iron & Ironing Board
Kitchen: Coffee & Tea, Coffee Maker, Cooktop, Kitchenette, Microwave, Small Fridge
Bathroom: Full Bathroom, Hair Dryer

More Less
USD 109 Nightly rates from
Select
Sandman Hotel
1901 Laforme Blvd, Town of Revelstoke
Revelstoke, British Columbia, Canada
Property Ratings
3.5 stars
You May Also Like
Reasons to book with us
At your fingertips
Our website gives you access to rate calendars and an unbiased view of available properties. This will allow you to find the best vacation, at the best available rate.
Customer support the right way
Central Reservations is only a call away. With a highly trained team, our agents are here to support you with any needs necessary to make your ski vacation the best vacation.